The Volvo Ocean Race 2017-2018 will follow a new route, which brings the largest amounts of Nautical miles sailed through the Southern Ocean, compared to previous VOR routes.
This is the Route with indicated the Start-Finish locations.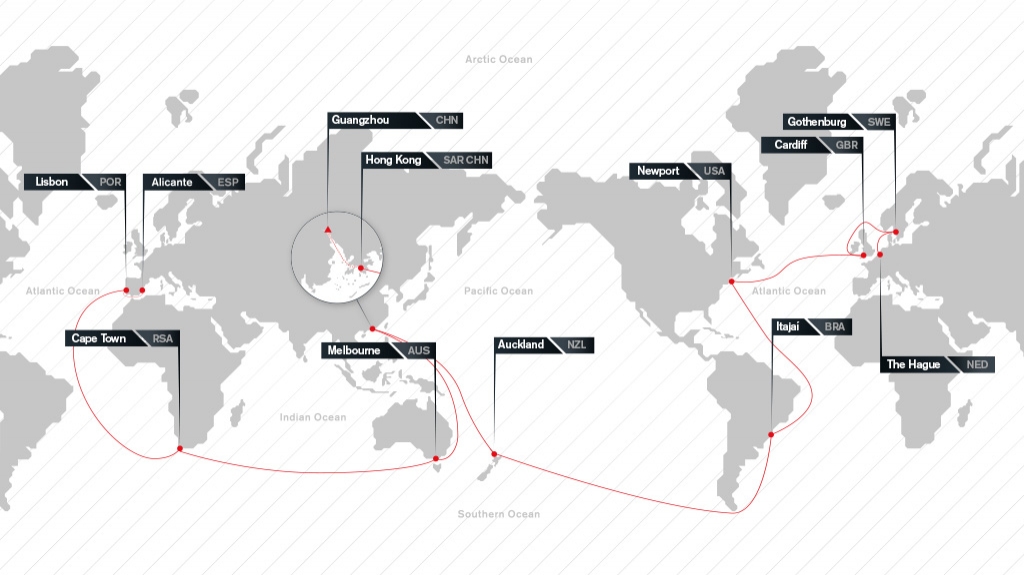 Route VolvoOceanRace 2017-2018 rev1
These are the VolvoOceanRace 2017-2018 participating Cities
Leg 3: Cape Town to Melbourne, Start: 10 December, a 6,300

N

m
challen

ging race, through the Indian Ocean.
InPort race Cape Town: 8 December
Leg

4

: Melbourne

to HongKong, Start

: 2 January 2018,

a

5,700

Nm challenging race, through the Tasman Sea.
No InPort race in Melbour

ne.
Leg : Hong Kong to Guangzhou, a non-scoring leisure sailing trip.
InPort r

ace HongKong: 27 January

Leg

5

: Guangzhou to Auckland, Start: 7 February a leg to the halfway mark
InPort race Guangzhou: 4 February

Leg

6

: Auckland to Itajai, Start: 18 March, a familiar route rounding Cape Horn.
InPort

race

Auckland: 10 March Leg

7

: Itajai to Newport, Start: 22 April

,

with some surprises in the Doldrums and into the colder climate
InPort

race Itajai: 20 April

Leg 8: Newport to Cardiff, Start: 20 May,a traditional Atlantic route but more northerly
InPort

race Newport:

19 May Leg

9

: Cardiff to Gothenburg, Start:

10 June

,with a route north of the British islands
InPort

race Cardiff:

8 June Leg 10: Gotherburg to T

he Hague, Start: 21 June ,the final End-Sprint
InPort race

Gothenburg: 17 June THE FINISH for the VolvoOceanRace 2017-2018.
InPort race The

Hague: 30 June 2018
A Stop

-O

ver normally consist of:
Finish of previous Leg,

a practice race,

some 4 Pro-Am races,

an In-Port race, counting in the scoreboard

a Start circuit for the following Leg.
Dates for Starts of Legs at the different cities to follow as well as the dates for In-Port races.